The State of Rajasthan has 10 agro-climatic zones as per the concept of National Agricultural Research Project (NARP) of Indian Council of Agricultural Research (ICAR). RARI, Durgapura, Jaipur is serving in the Semi-Arid Eastern Plain Zone-IIIa comprising four districts viz., Jaipur, Ajmer, Dausa and Tonk. The geographical area of the zone is approximately 2.97 million hectare, which represents 8.67% of the total area of Rajasthan. The zone is further divided into 7 micro-farming situations. About 28 per cent land area of the zone has problematic soils due to salinity and sodicity. On an average the zone receives 500-600 mm rainfall, mainly during rainy season.
LINKAGES
International:
ICRISAT-Hyderabad, CIMMYT-Mexico, ICARDA-Syria, & ACIAR-Australia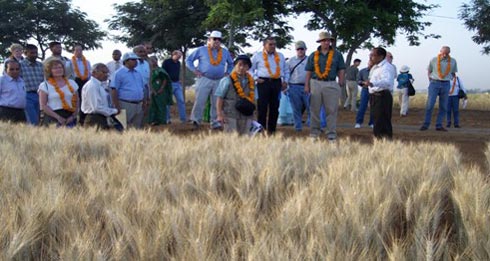 National:
BARC-Trombay, NBPGR & IARI New Delhi, State Agricultural Universities (SAUs), National Research Centers (NRCs), Central Institutes of Agricultural Research of ICAR, DST-Jaipur. The research is being conducted through All India Coordinated Research Projects (AICRPs) on almost all the important crops of Zone IIIa Research is also financed by Government of Rajasthan through non-plan component.
The AICRPs running at this institute are -