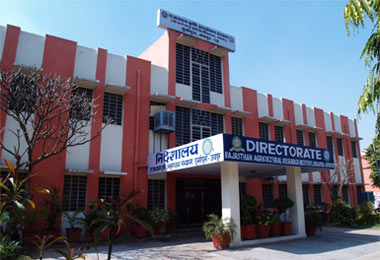 This Agricultural Research Station (ARS) now called as Rajasthan Agricultural Research Institute (RARI) is a constituent of Sri Karan Narendra Agriculture University, Jobner, Jaipur. Since its inception in 1943 it has come a long way, overcoming an era of national food deficits to that of self-sufficiency with a surplus food-grains reserve. This research station was initially under the control of the state Govt., which in April 1977 transferred it along with the responsibilities of crop research to the then Udaipur University, a multi-faculty university. Later, in 1987, the first Agricultural University in the state was established with its main campus at Bikaner and this research institute thus came under the jurisdiction of the Agricultural University, presently known as the Sri Karan Narendra Agriculture University, Jobner. The Director is the In-Charge of the research institute. Three Agricultural Research Sub Stations (Diggi, Tabiji and Kotputli) come under the administrative jurisdiction of this institute, where as five KVKs (Ajmer, Banasthali, Dausa, Kotputali and Chomu) get technical information from this institute for disseminating the same to the farmers.
The valuable contributions made by the agricultural scientists of this pioneer research institute have helped the Nation in maintaining the balance between its population growth and agricultural production. In order to increase productivity, improve quality and profitability not standing with the population pressures, rigorous efforts are still on the way at this centre and the scientists are determined to achieve these goals. Being foremost in advancement of agricultural research activities in the state, today, this research centre is a pride of Rajasthan.
RARI, Durgapura has become a popular name among farmers for reliable technology development in agricultural research.